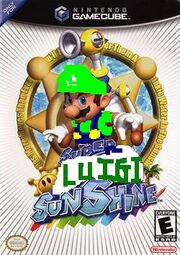 Super Luigi Sunshine

Release Date

USA:September 12,2002

Canada:September 15,2002

Europe:October 5th,2002

Japan:July 29,2003/December 31,2004

Re-release USA & Canada:By 1/1/05

European Re-release:February 2,2006

Japan re-release:December 31,2007

All re-release II:September 16,2008

Platform/Platinum

Nintendo Gamecube (2002-2006)

Wii (2007,2008)

Notes

This game's Japan re-release and all re-release II got moved to the Wii in 2007 due to the discontinuation of the Gamecube.
ewewewewewewewewewewewSuper Luigi Sunshine is the Luigi side of Super Mario Sunshine & a mini-sequel to the game. NOT FINISHED
Ad blocker interference detected!
Wikia is a free-to-use site that makes money from advertising. We have a modified experience for viewers using ad blockers

Wikia is not accessible if you've made further modifications. Remove the custom ad blocker rule(s) and the page will load as expected.